Regular price
$20.00 USD
Sale price
$17.00 USD
Unit price
per
Sale
Sold out
Embark on a beginner-friendly crafting quest with our paper model kit, and create your own miniatures of the iconic Sphinx along with the three majestic pyramids of Giza. This kit is a doorway to Egypt's ancient marvels, offering a serene crafting experience as you assemble these time-honoured structures.
Scale: Sphinx: 1:300, Pyramid of Khufu: 1:1300, Pyramid of Khafre: 1:1300, Pyramid of Menkaure: 1:1300
Assembly Time: Estimated at 2+ hours, possibly across multiple sittings for best results
Material: Durable, sustainably sourced card; full colour print

Features: 10 pieces to cut out; set-up diagrams included for guided assembly, ensuring a smooth crafting journey from start to finish
View full details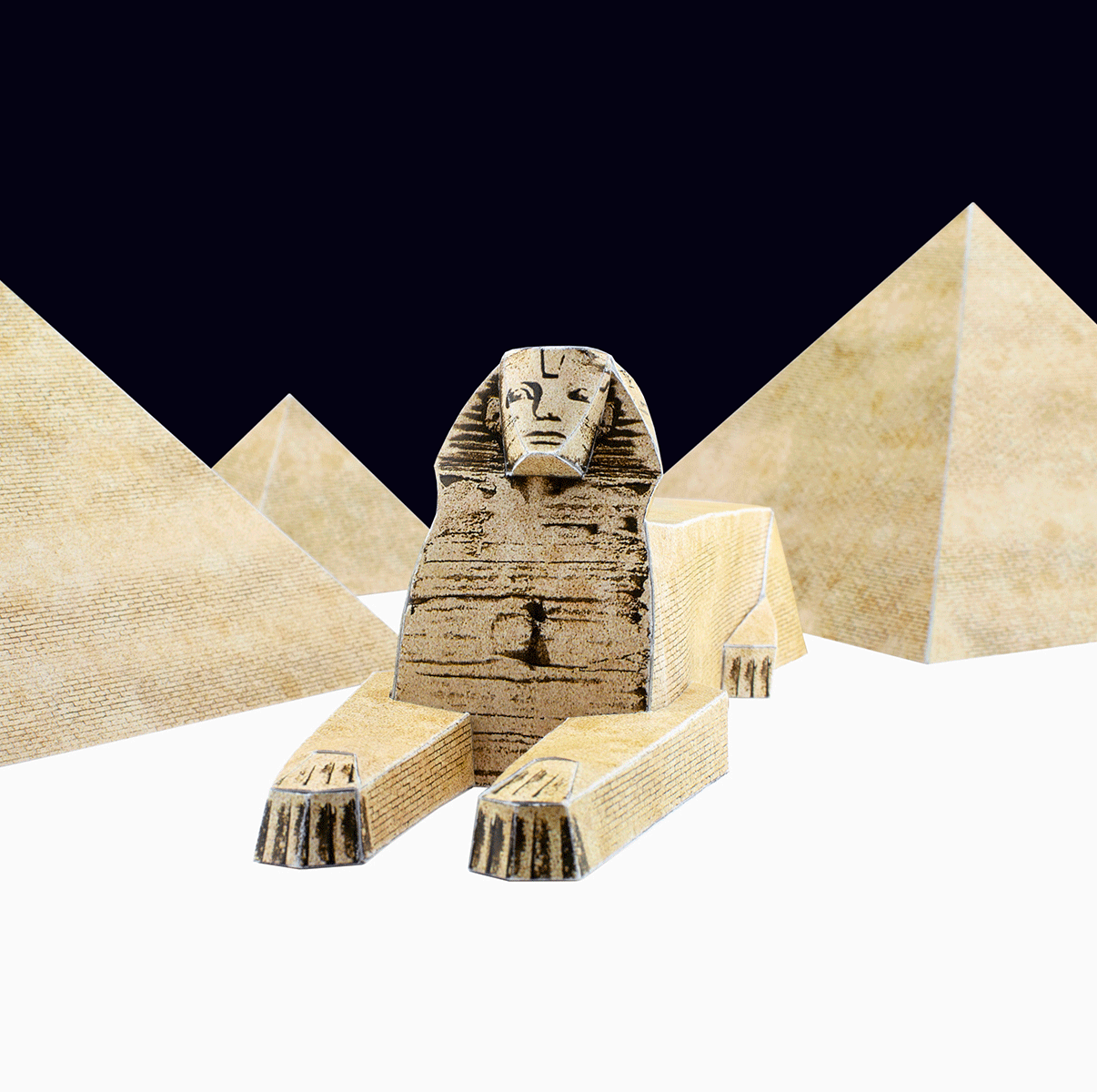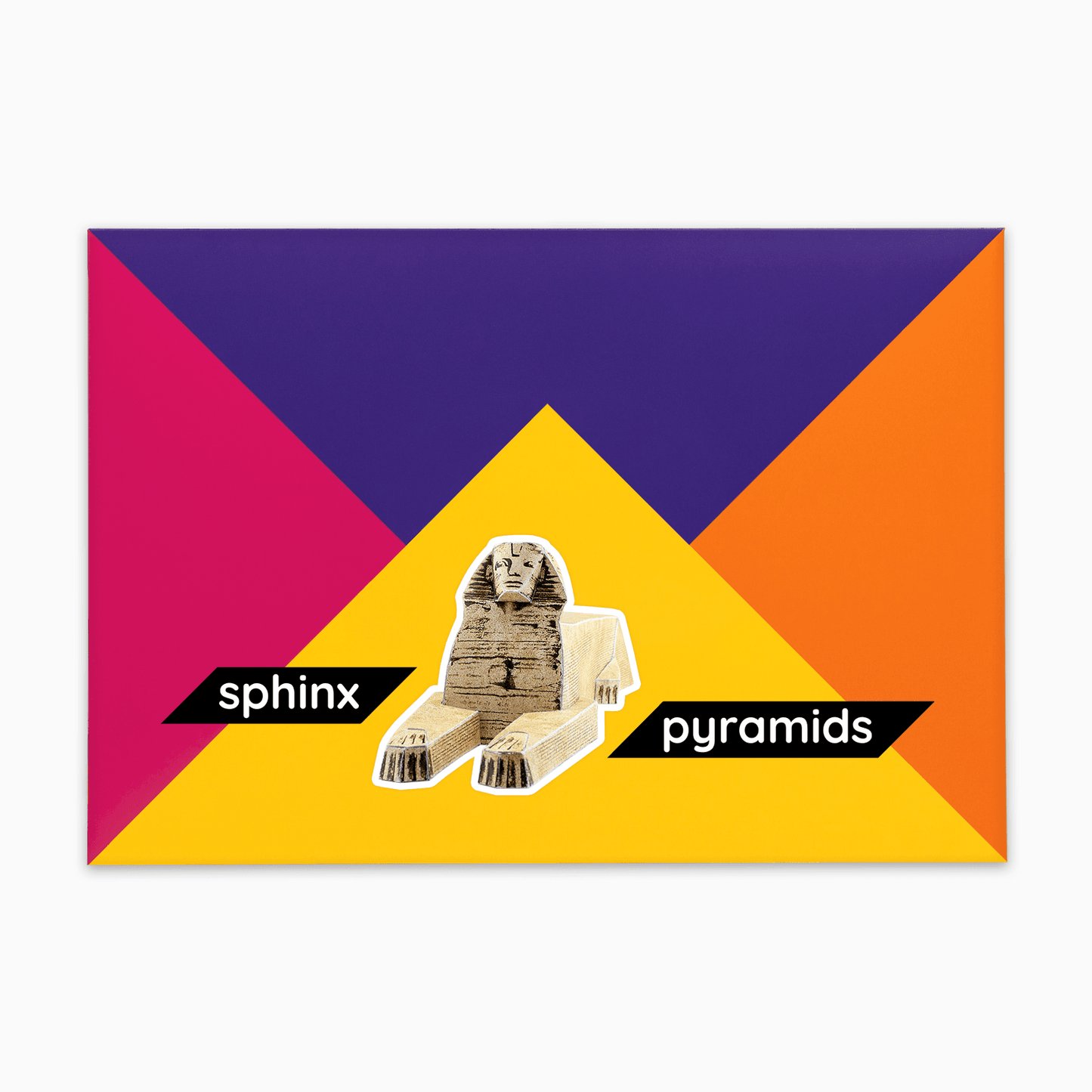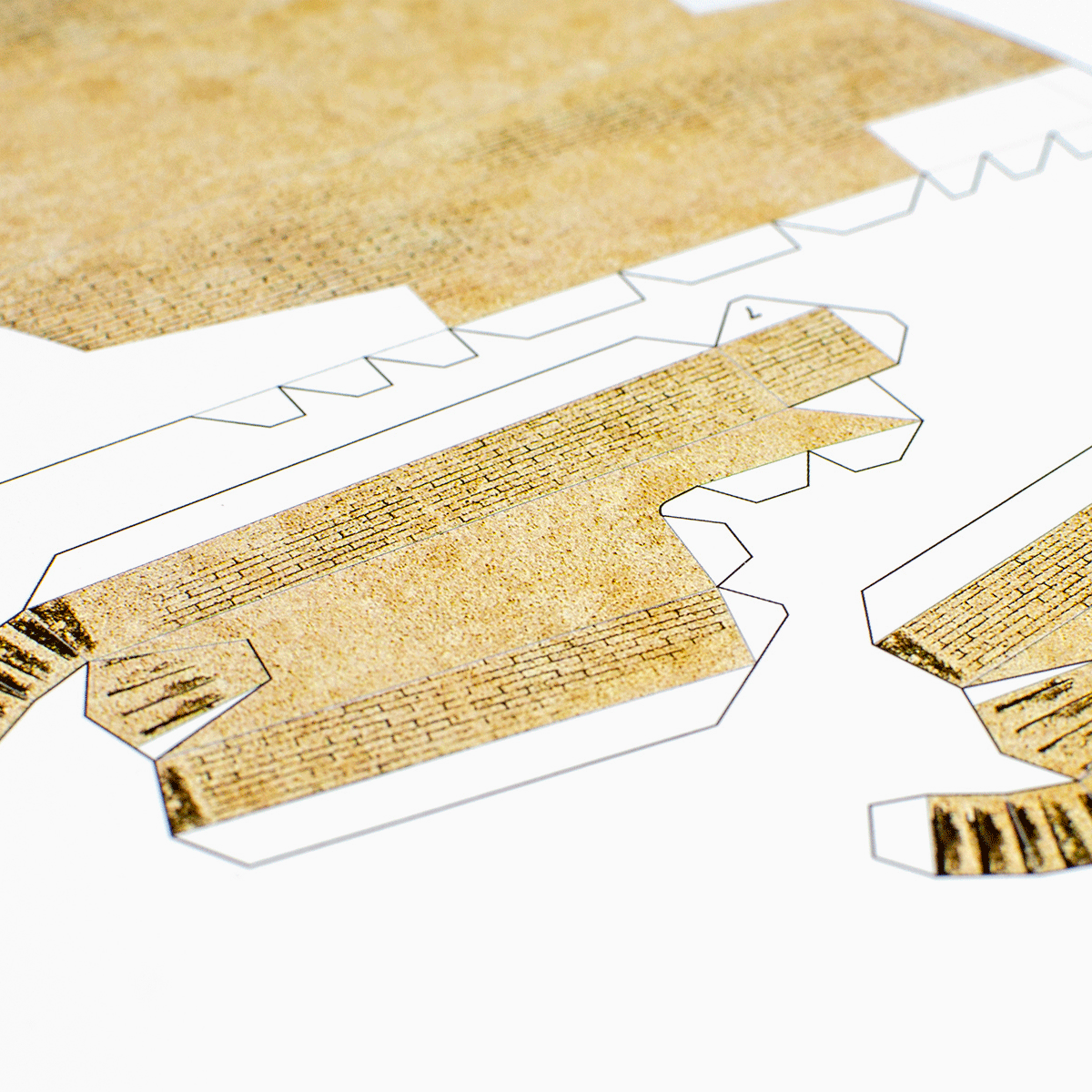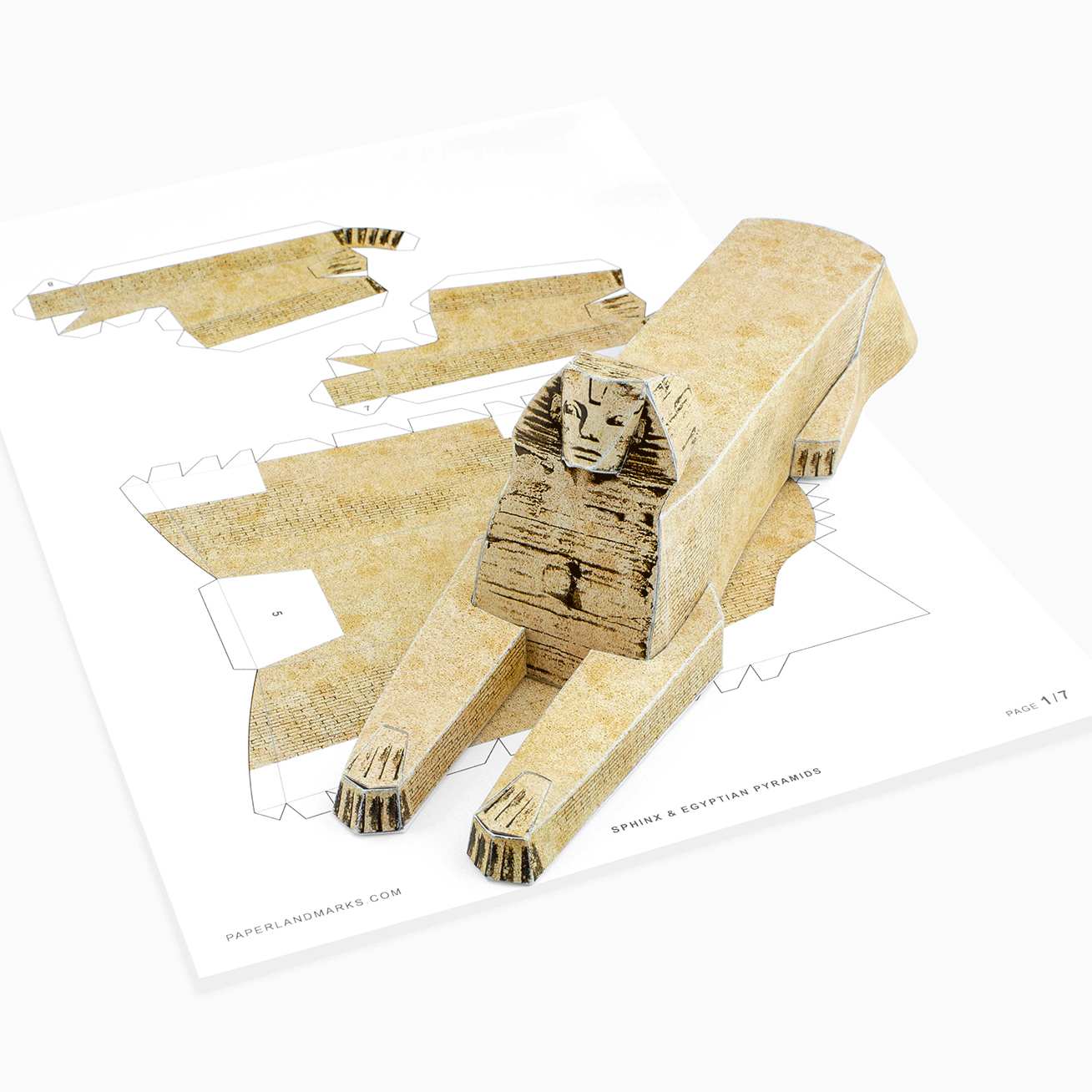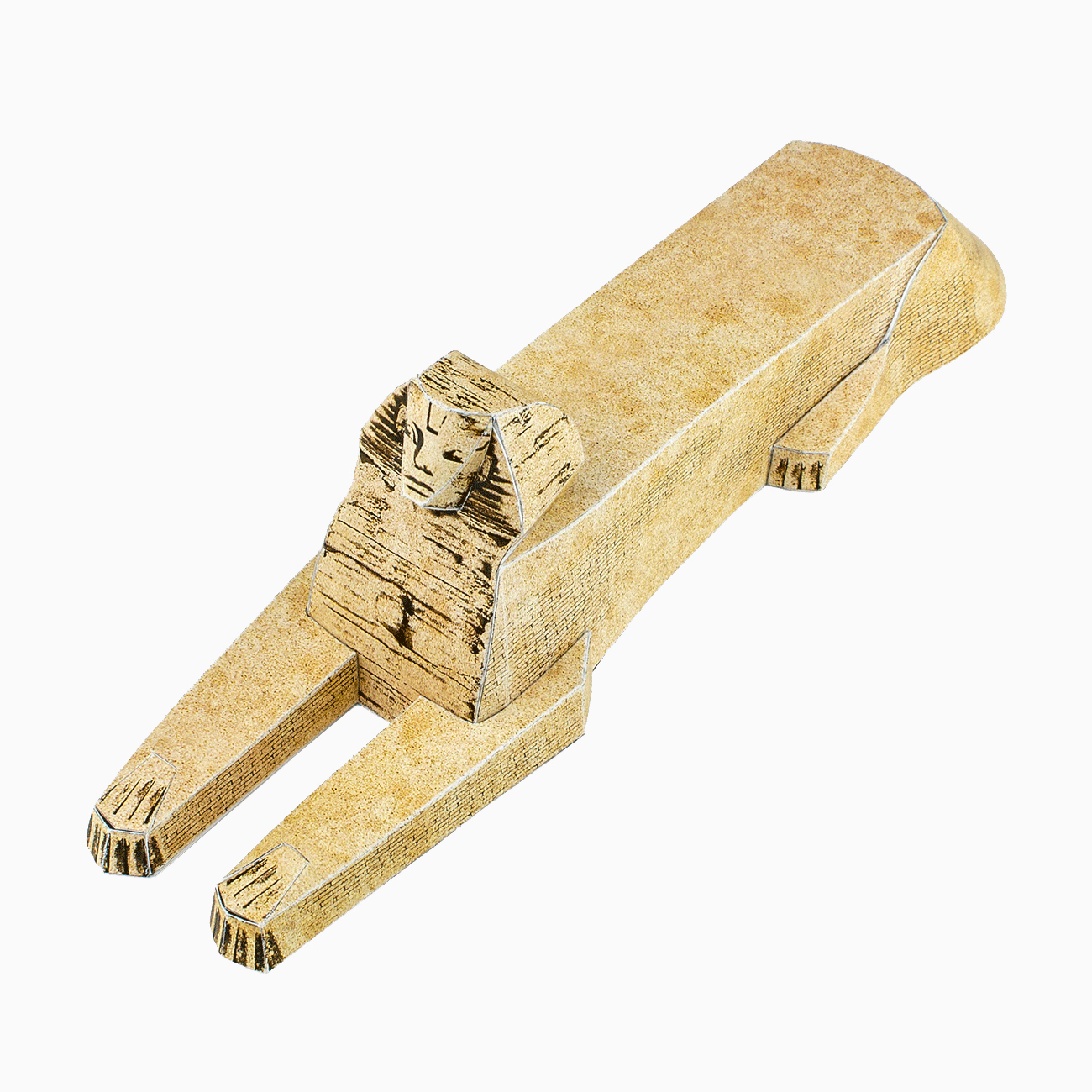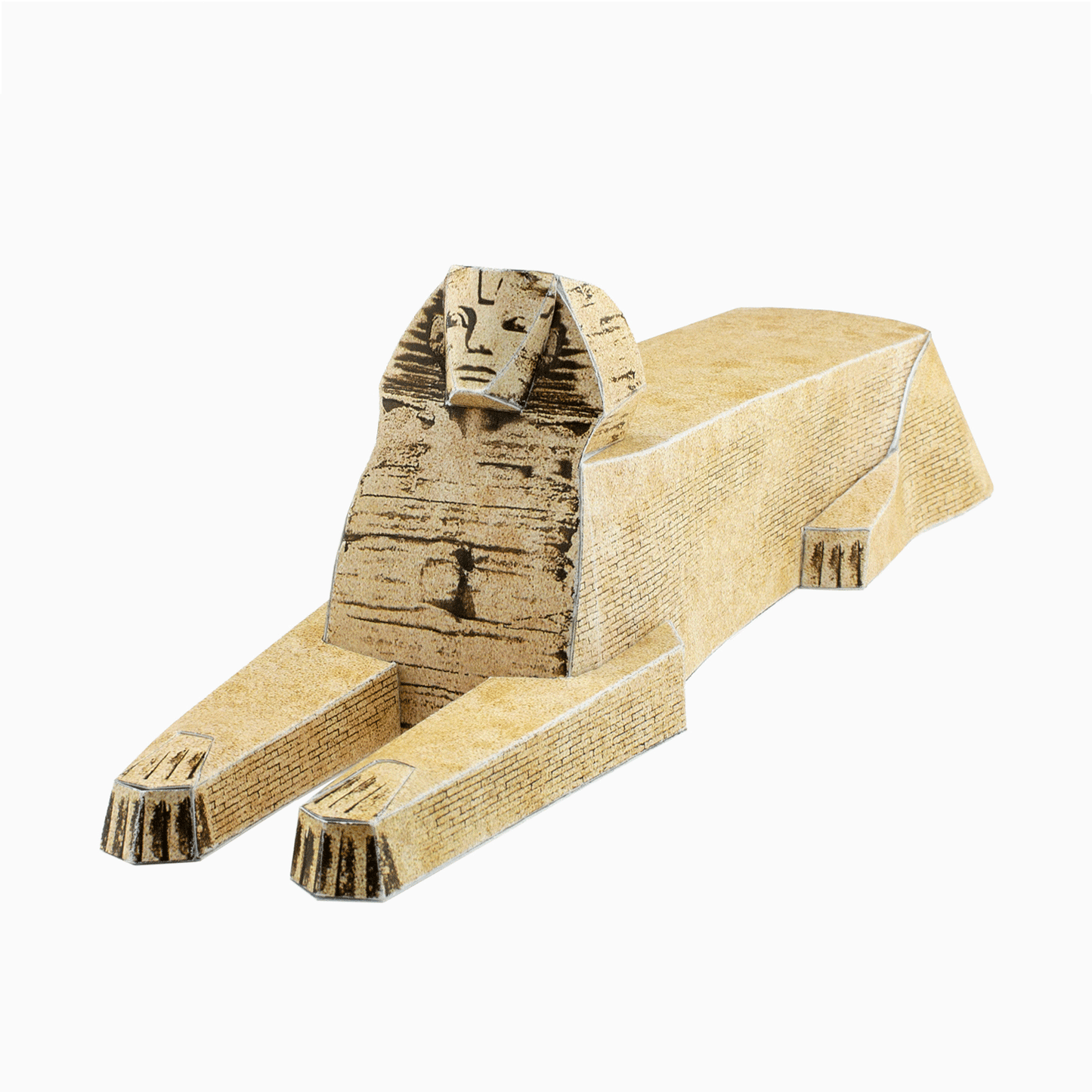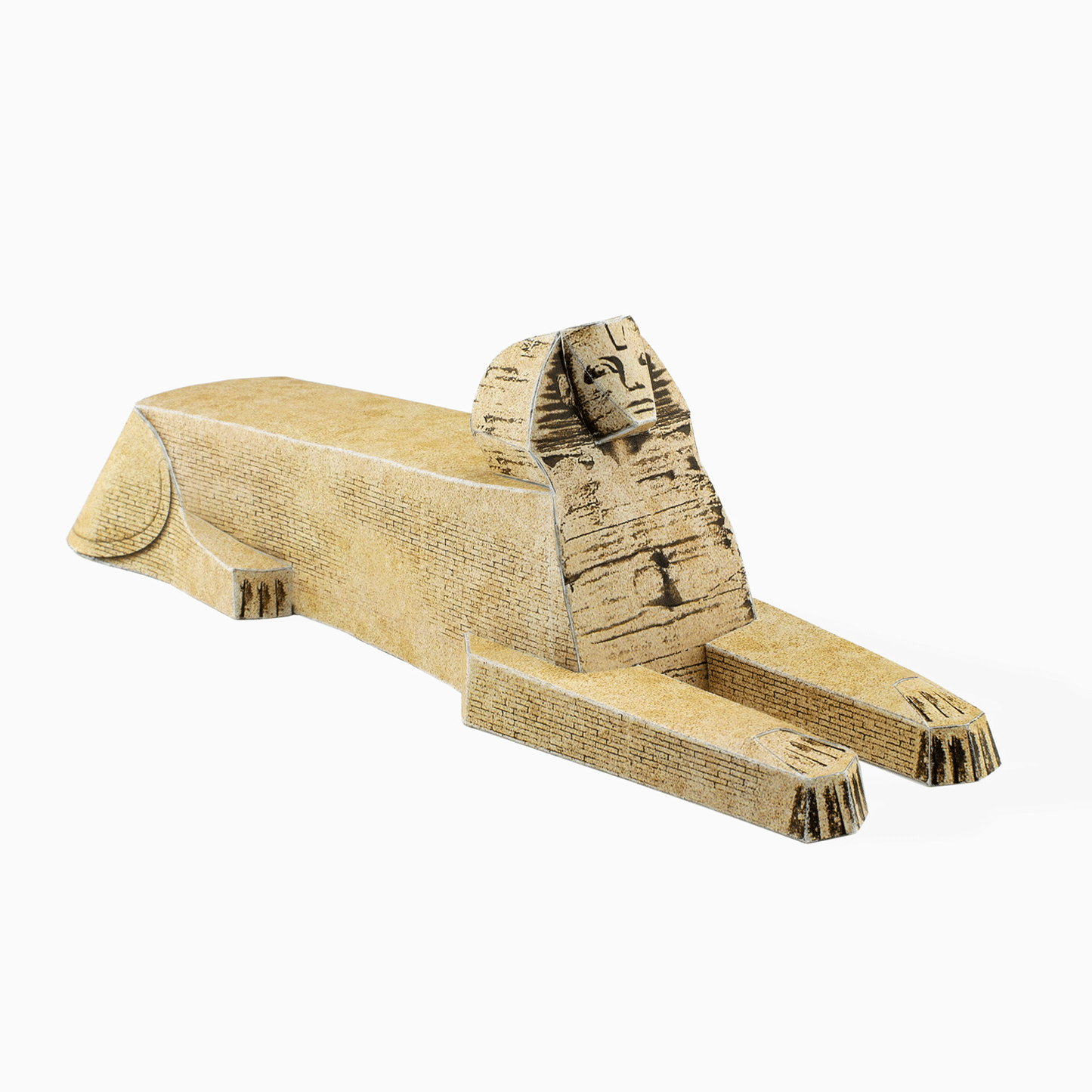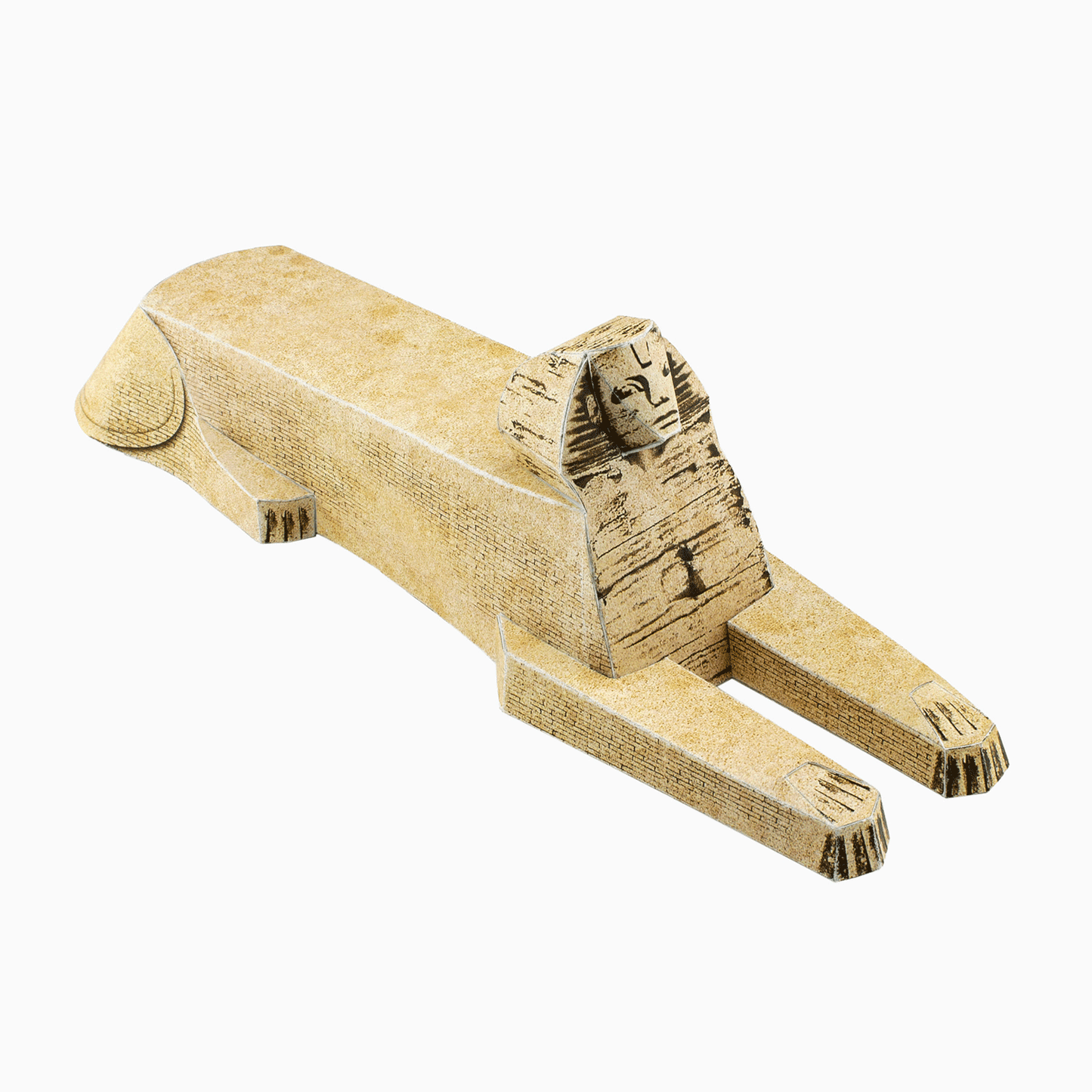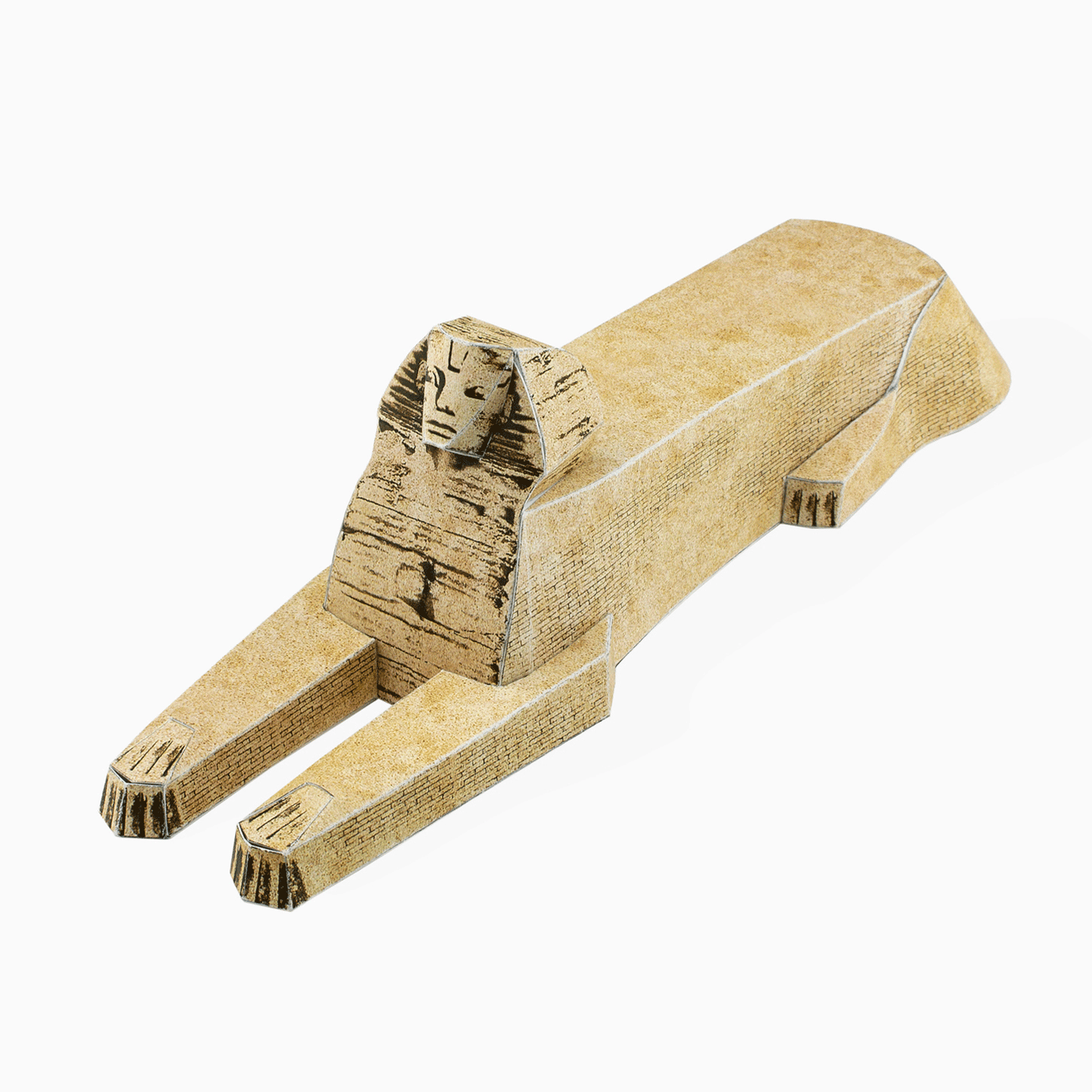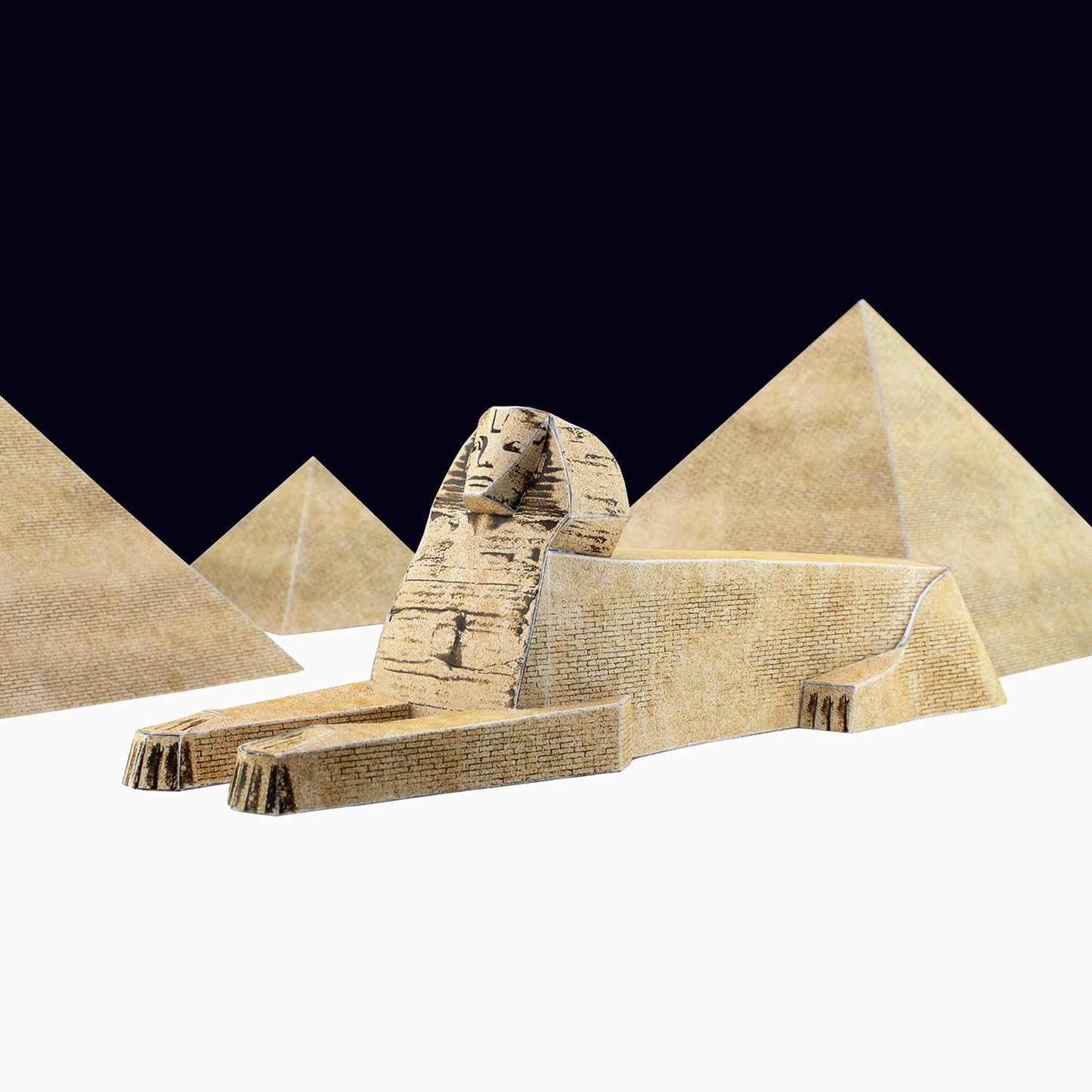 Collapsible content
KIT DETAILS

PRINTED KIT - CUT, FOLD, GLUE! This model comes unassembled, delivered flat-packed in a large envelope.

What's inside? 7 sturdy A4 size paper sheets with the artwork, cutting and scoring lines printed on. You will need to cut, score, fold and glue the parts in order to assemble the model according to the set-up instructions which come with the kit.

Things which are not included, but you'll need in order to assemble the model: time & patience, a hobby knife, a ruler, a cutting mat or hard surface to work on, white glue (PVA).

Some other things might be helpful: a pointed stylus, tweezers and scissors. See what tools we recommend.
MODEL BUILDING TIPS

This model will require more than one sitting to build it. We advise to pause between different stages as you work, especially when you come to gluing. The white glue softens the paper and it may lead to misshapen parts if you do not allow them to dry well before proceeding further with assembling. Click here to watch our paper model building tips.

Give yourself enough time to enjoy the process and achieve the best result!
DELIVERY

We are committed to shipping your purchases on time, often ahead of the estimated processing timeframe. However, due to the global postal overload, there might be delays beyond the usual delivery schedule. Check the latest service updates for your location on the Royal Mail website or consult your local postal service for more information.

Shipping Timelines:

Paper model kits and pop-up cards: Dispatched within 1-3 working days
Assembled paper models, personalised items: Dispatched within up to 10 working days

Expected Delivery:

Domestic (Mainland UK): 1-3 working days
Europe: 3-5 working days
USA and Canada: 5-7 working days
Rest of the world: 7-14 working days
International Express: 2-4 working days

Please note: Delivery delays are beyond our control. While over 95% of orders are delivered within the stated timeframe, delivery may occasionally exceed the expected duration, especially during peak periods. If you need your order by a specific date, consider using the express mail option.

Read our full delivery information and policy on returns here.
ABOUT THIS LANDMARK

The Sphinx and the Egyptian Pyramids at Giza, including the Pyramid of Khufu, the Pyramid of Khafre, and the Pyramid of Menkaure, are among the most famous and enduring symbols of Ancient Egypt.

Pyramid of Khufu: Also known as the Great Pyramid, it is the largest of the three pyramids at Giza. Constructed for Pharaoh Khufu (Cheops in Greek) around 2580–2560 BCE, it originally stood at 146.6 meters (481 feet) tall but now measures about 138.8 meters (455 feet) due to the loss of the outer casing stones. The Great Pyramid was the tallest man-made structure in the world for over 3,800 years. It is estimated that about 2.3 million blocks of stone were used in its construction, with an average weight of 2.5 to 15 tons per block.

Pyramid of Khafre: Slightly smaller than the Great Pyramid, the Pyramid of Khafre was built for Pharaoh Khafre, Khufu's son, around 2570 BCE. It originally stood at a height of 143.5 meters (471 feet), but now it is about 136.4 meters (448 feet) tall. One of its distinguishing features is the remaining casing stones at the peak, which give an idea of how the original pyramids might have looked.

The complex also includes the Great Sphinx of Giza, a colossal limestone statue with the body of a lion and the head of a pharaoh, believed to represent Khafre himself. It is approximately 73 meters (240 feet) long, 19 meters (62 feet) wide, and 20 meters (66 feet) high. The exact purpose of the Sphinx remains a subject of debate. It likely had a religious function, possibly connected to sun worship, and may have served as a guardian figure for the Giza Plateau, especially the necropolis and temples. The combination of a lion's body with a human head symbolizes strength and intelligence, aligning with the pharaoh's role as both a leader and protector.

Pyramid of Menkaure: The smallest of the three main pyramids at Giza, the Pyramid of Menkaure, was built for Pharaoh Menkaure around 2510 BCE. It is significantly smaller than its predecessors, with an original height of 65 meters (213 feet), now reduced to about 61 meters (200 feet). It features a more complex internal structure than the other two pyramids and was constructed using different materials, including granite for the lower casing stones.

These pyramids were built as tombs for the pharaohs and are a testament to the ancient Egyptians' architectural skills and their religious beliefs in the afterlife. The precise alignment of the pyramids with celestial bodies and the sheer scale of construction still amaze historians and archaeologists today.