Regular price
$26.00 USD
Sale price
$24.00 USD
Unit price
per
Sale
Sold out
Embark on a captivating crafting adventure with our paper model kit, recreating the majestic Al Khazneh, Petra's iconic Treasury building. This intermediate-level kit is a passport to exploring ancient architectural marvels while enjoying a meticulous crafting endeavor.
Scale: 1:200, with assembled dimensions of 9 x 4 x 10 inches
Assembly Time: Estimated at 8+ hours, advised across multiple sittings
Material: Durable, sustainably sourced card in gold with pearlescent finish
Features: 71 pieces to cut out; set-up diagrams included for guided assembly, ensuring a structured crafting journey from start to finish
View full details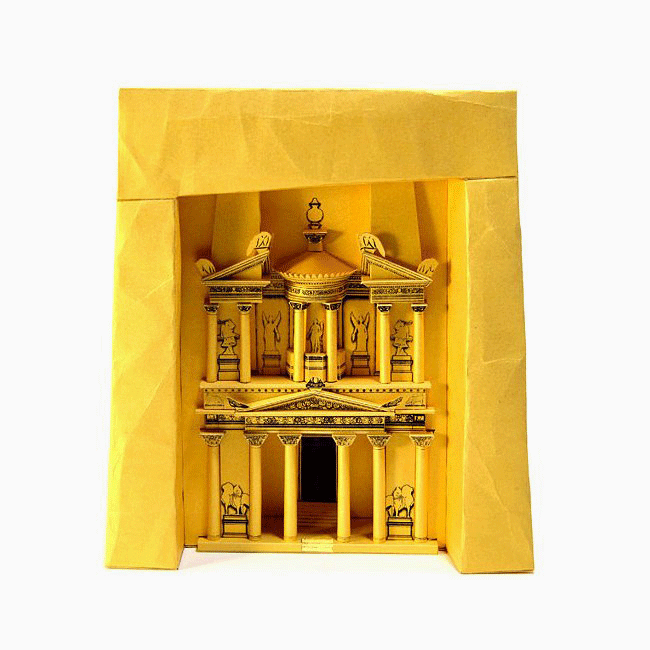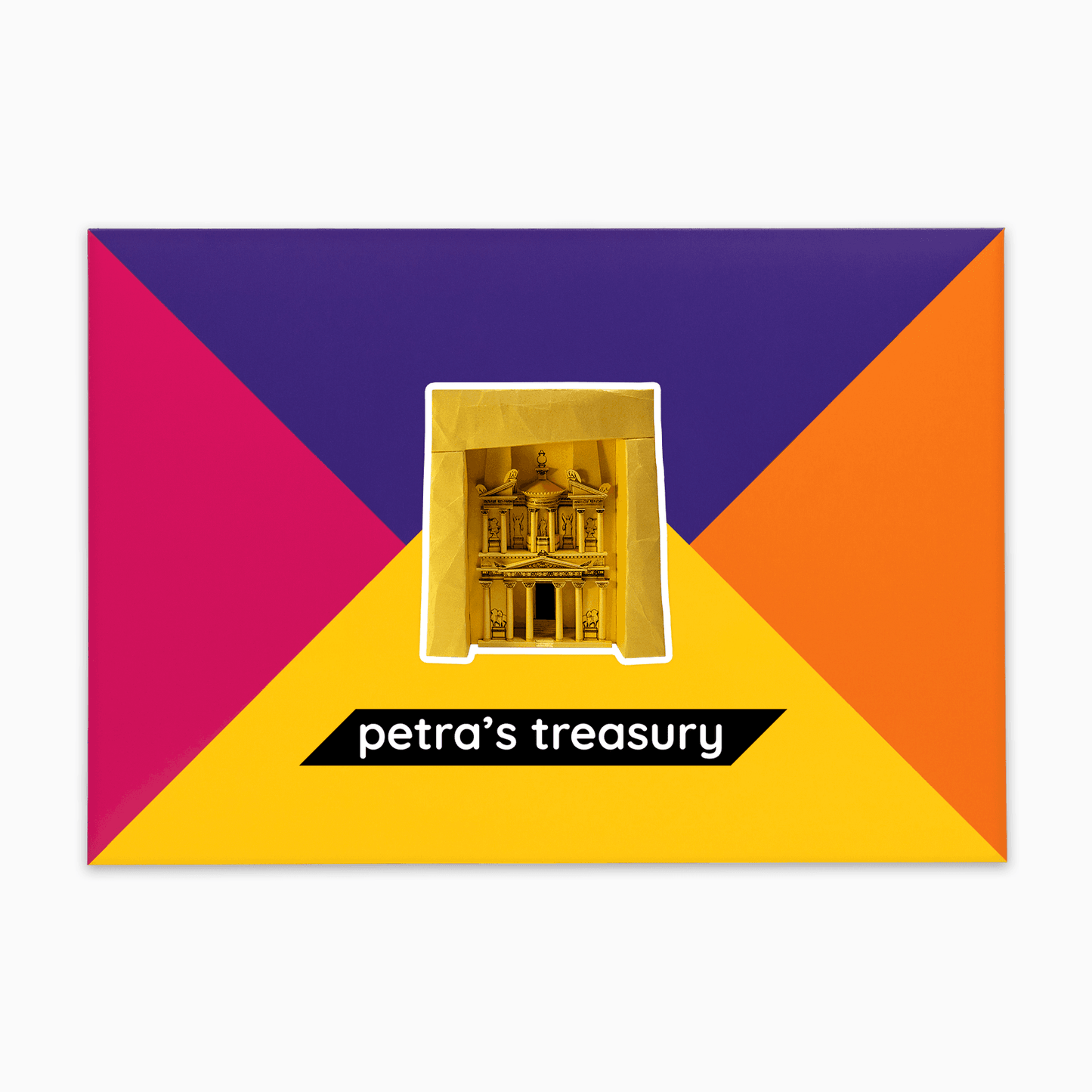 Collapsible content
KIT DETAILS

PRINTED KIT - CUT, FOLD, GLUE! This model comes unassembled, delivered flat-packed in a large envelope.

What's inside? 9 sturdy A4 size paper sheets with the artwork, cutting and scoring lines printed on. You will need to cut, score, fold and glue the parts in order to assemble the model according to the set-up instructions which come with the kit.

Things which are not included, but you'll need in order to assemble the model: time & patience, a hobby knife, a ruler, a cutting mat or hard surface to work on, white glue (PVA).

Some other things might be helpful: a pointed stylus, tweezers and scissors. See what tools we recommend.
MODEL BUILDING TIPS

This model will require more than one sitting to build it. We advise to pause between different stages as you work, especially when you come to gluing. The white glue softens the paper and it may lead to misshapen parts if you do not allow them to dry well before proceeding further with assembling. Click here to watch our paper model building tips.

Give yourself enough time to enjoy the process and achieve the best result!
DELIVERY

We are committed to shipping your purchases on time, often ahead of the estimated processing timeframe. However, due to the global postal overload, there might be delays beyond the usual delivery schedule. Check the latest service updates for your location on the Royal Mail website or consult your local postal service for more information.

Shipping Timelines:

Paper model kits and pop-up cards: Dispatched within 1-3 working days
Assembled paper models, personalised items: Dispatched within up to 10 working days

Expected Delivery:

Domestic (Mainland UK): 1-3 working days
Europe: 3-5 working days
USA and Canada: 5-7 working days
Rest of the world: 7-14 working days
International Express: 2-4 working days

Please note: Delivery delays are beyond our control. While over 95% of orders are delivered within the stated timeframe, delivery may occasionally exceed the expected duration, especially during peak periods. If you need your order by a specific date, consider using the express mail option.

Read our full delivery information and policy on returns here.
ABOUT THIS LANDMARK

Petra's Treasury, known locally as Al-Khazneh, is one of the most stunning and iconic structures in the ancient city of Petra, Jordan. Carved directly into the pink sandstone cliff face, this magnificent facade is believed to have been constructed in the 1st century AD as a tomb and represents a masterful blend of ancient Eastern traditions with Hellenistic architectural styles.

The Treasury stands at about 40 meters (131 feet) high and is intricately decorated with Corinthian columns, friezes, and figures. The name 'Treasury' comes from a local legend that bandits or pirates hid their loot in a giant urn at the top of the structure, which bears the marks of bullets where Bedouins tried to open it. However, the urn is simply a solid sandstone decoration.

The true purpose of the Treasury remains somewhat of a mystery, but it's generally believed to have been a mausoleum or crypt. Its facade is adorned with mythological figures, including dancing Amazons and winged Victories, and at the top, a funerary urn. The interior of the Treasury, however, is quite plain and small compared to its elaborate exterior, consisting of a single large chamber.

Petra, established possibly as early as 312 BC as the capital city of the Nabataeans, is a UNESCO World Heritage site and has been described as "a rose-red city half as old as time." The approach to the Treasury through the Siq, a narrow gorge flanked by towering cliffs, adds to its dramatic allure. This site gained wider international fame after being featured in the film "Indiana Jones and the Last Crusade."