Regular price
$20.00 USD
Sale price
$17.00 USD
Unit price
per
Sale
Sold out
Embark on a historical crafting journey with our paper model kit, recreating the magnificent Ishtar Gate from the ancient Mesopotamian city of Babylon. This intermediate-level kit is tailored for a thorough and enjoyable crafting experience, offering a glimpse into ancient architectural splendors. The model is partly based on the reconstruction on display in the Pergamon Museum in Berlin.

Scale: 1:100, with assembled dimensions of 11 x 4 x 7 inches
Assembly Time: Estimated at 5+ hours, advised across multiple sittings
Material: Durable, sustainably sourced card; full colour print

Features: 11 pieces to cut out; set-up diagrams included for guided assembly, ensuring a structured crafting journey
View full details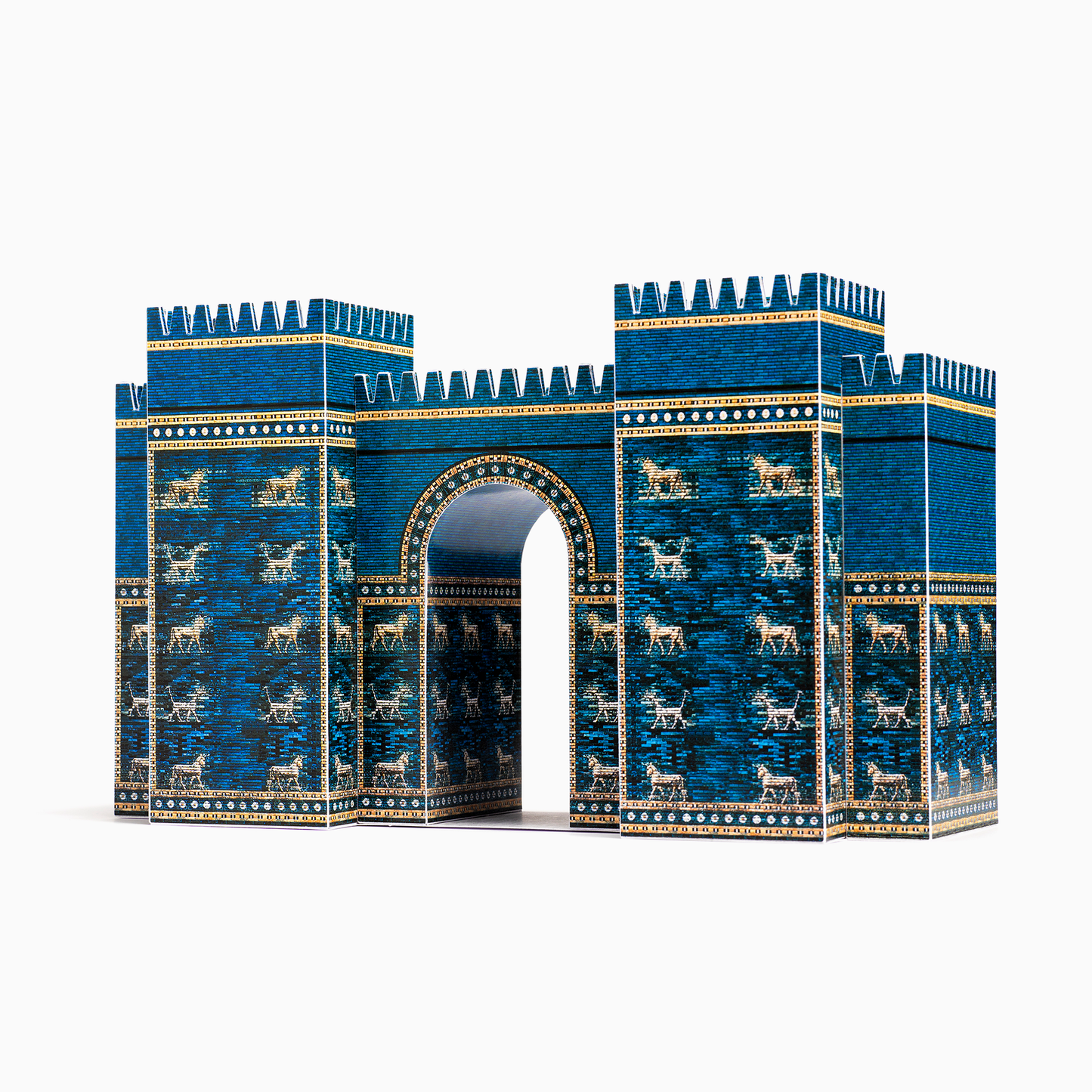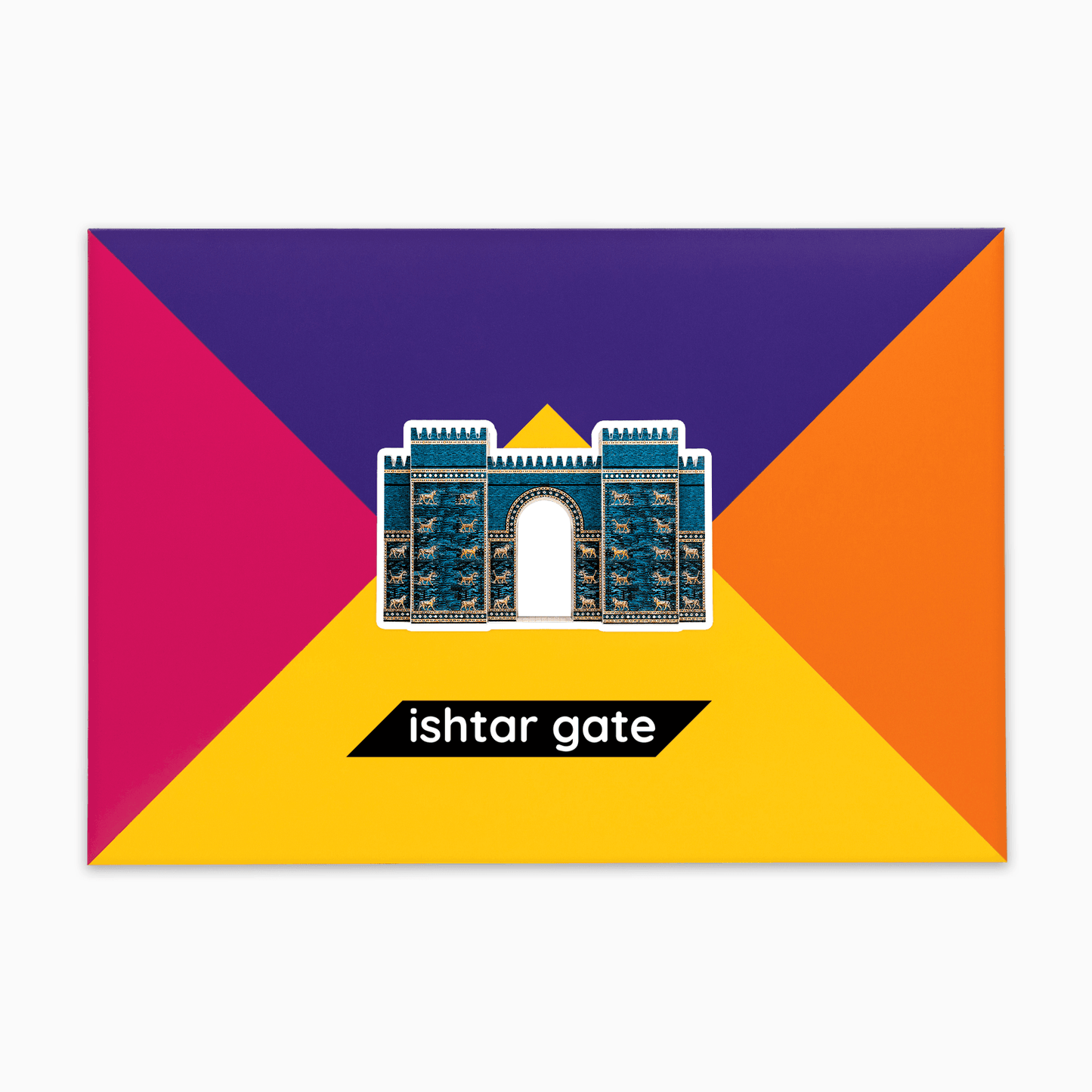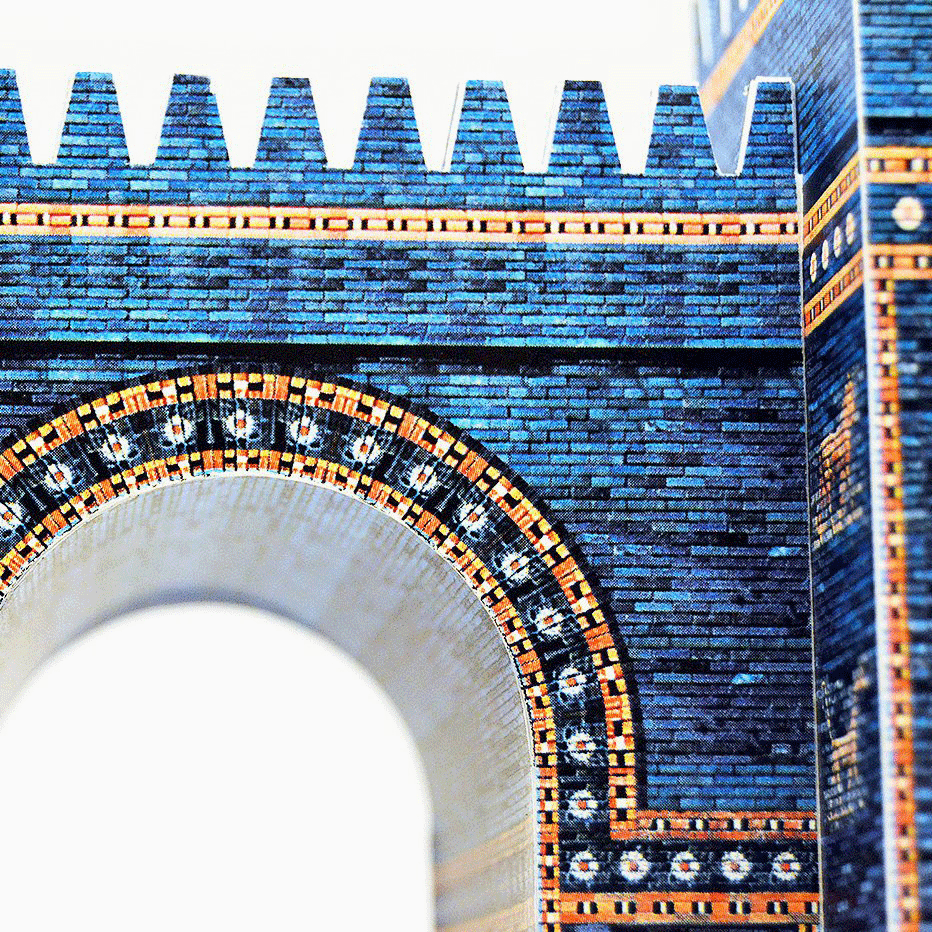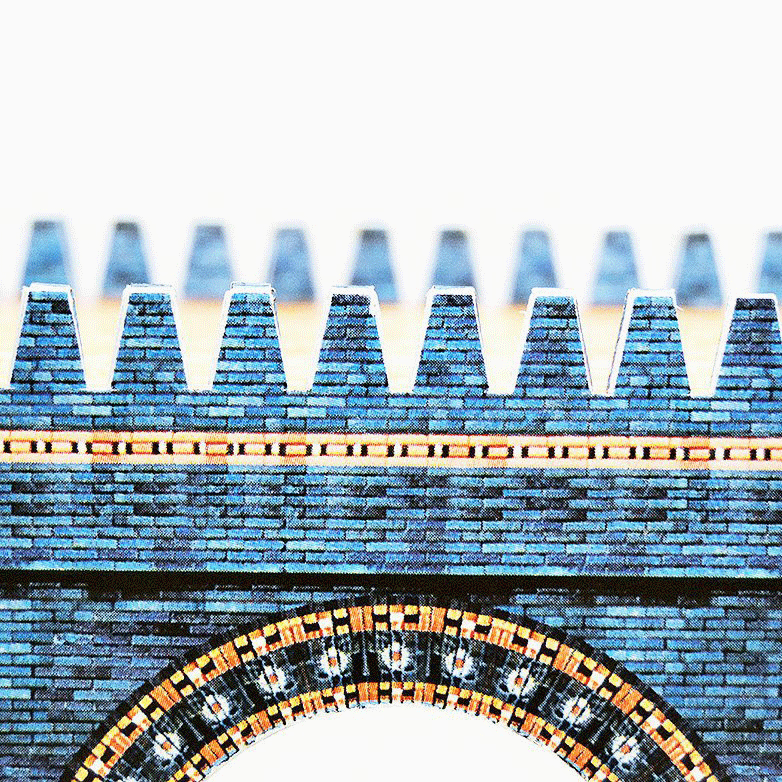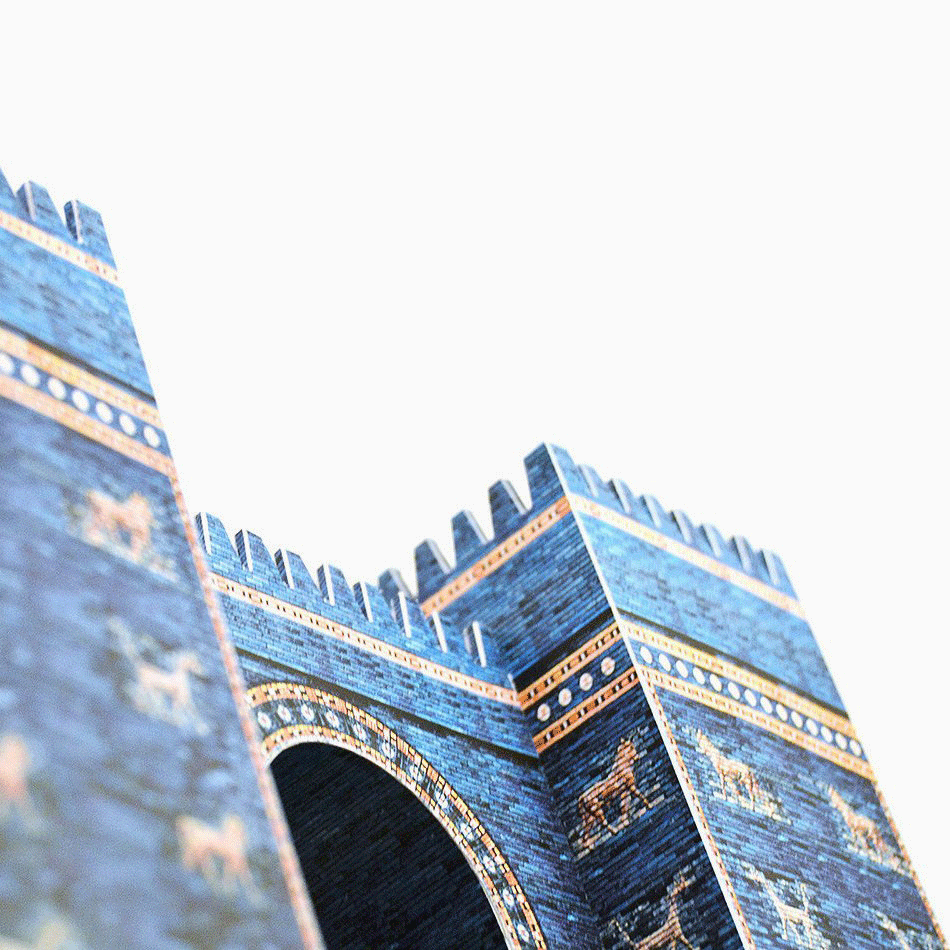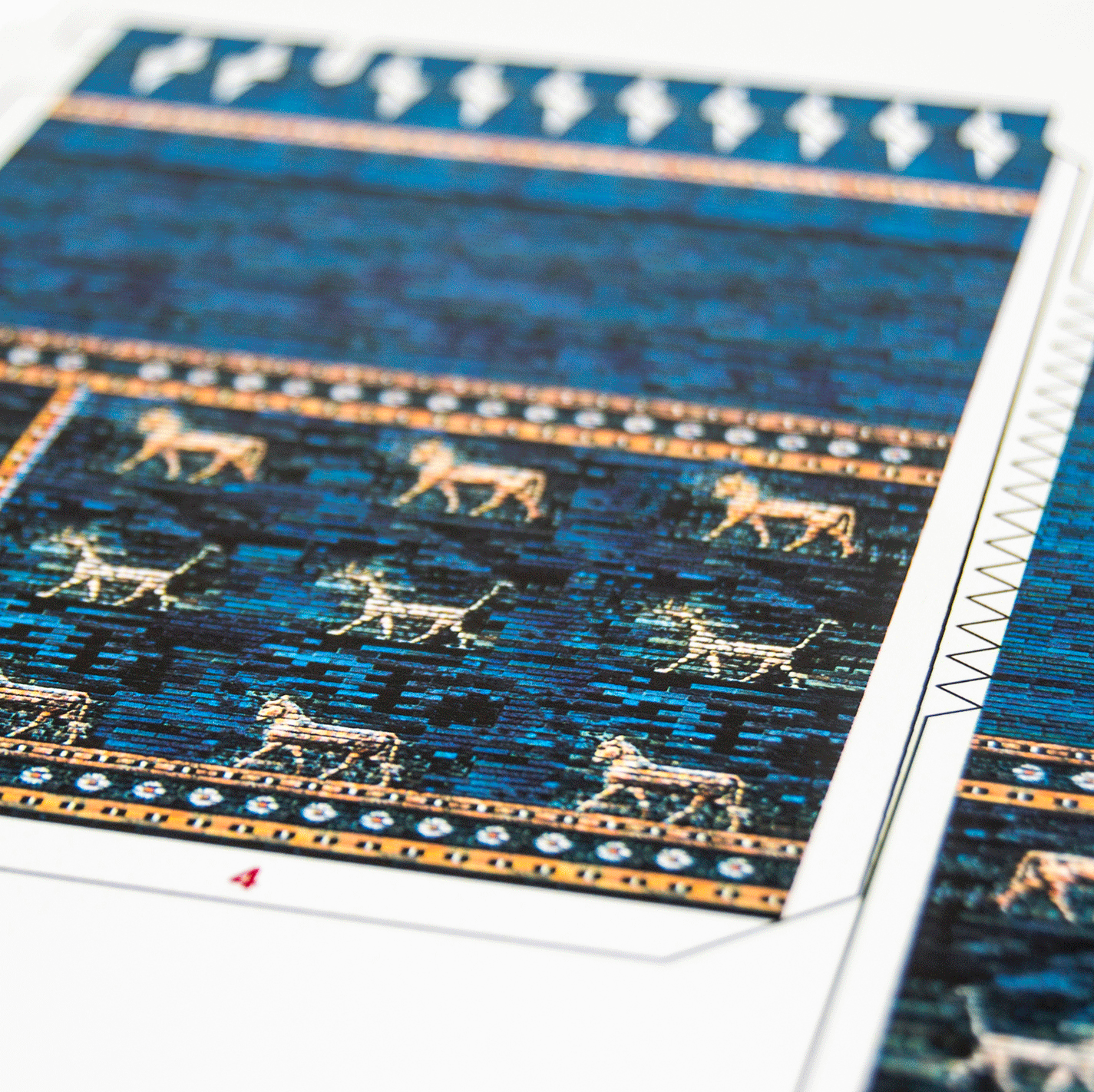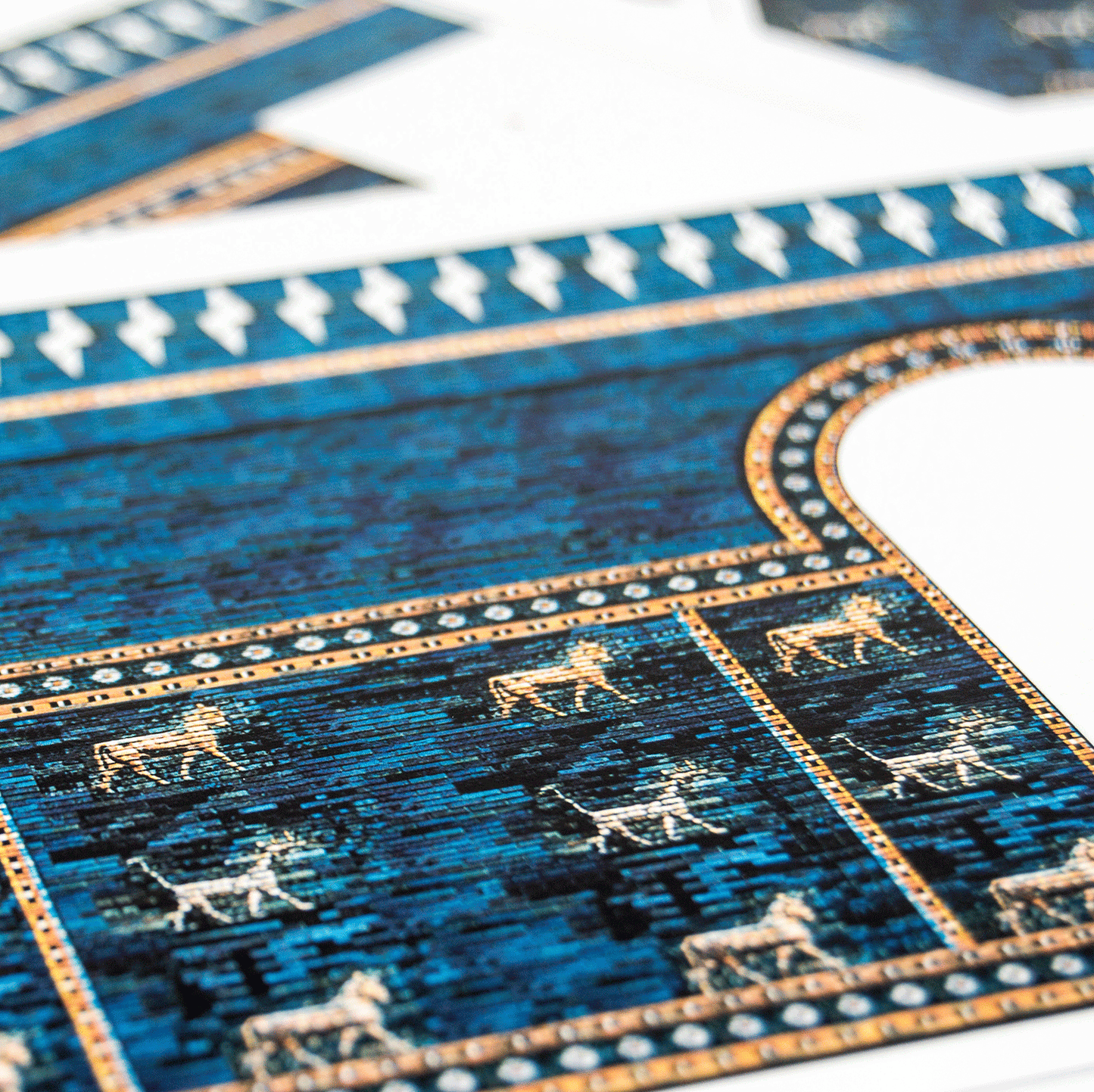 Collapsible content
KIT DETAILS

PRINTED KIT - CUT, FOLD, GLUE! This model comes unassembled, delivered flat-packed in a large envelope.

What's inside? 7 sturdy A4 size paper sheets with the artwork, cutting and scoring lines printed on. You will need to cut, score, fold and glue the parts in order to assemble the model according to the set-up instructions which come with the kit.

Things which are not included, but you'll need in order to assemble the model: time & patience, a hobby knife, a ruler, a cutting mat or hard surface to work on, white glue (PVA).

Some other things might be helpful: a pointed stylus, tweezers and scissors. See what tools we recommend.
MODEL BUILDING TIPS

This model will require more than one sitting to build it. We advise to pause between different stages as you work, especially when you come to gluing. The white glue softens the paper and it may lead to misshapen parts if you do not allow them to dry well before proceeding further with assembling. Click here to watch our paper model building tips.

Give yourself enough time to enjoy the process and achieve the best result!
DELIVERY

We are committed to shipping your purchases on time, often ahead of the estimated processing timeframe. However, due to the global postal overload, there might be delays beyond the usual delivery schedule. Check the latest service updates for your location on the Royal Mail website or consult your local postal service for more information.

Shipping Timelines:

Paper model kits and pop-up cards: Dispatched within 1-3 working days
Assembled paper models, personalised items: Dispatched within up to 10 working days

Expected Delivery:

Domestic (Mainland UK): 1-3 working days
Europe: 3-5 working days
USA and Canada: 5-7 working days
Rest of the world: 7-14 working days
International Express: 2-4 working days

Please note: Delivery delays are beyond our control. While over 95% of orders are delivered within the stated timeframe, delivery may occasionally exceed the expected duration, especially during peak periods. If you need your order by a specific date, consider using the express mail option.

Read our full delivery information and policy on returns here.
ABOUT THIS LANDMARK

The Ishtar Gate, an ancient architectural marvel, was one of the main entrances to the great city of Babylon, now near modern-day Baghdad, Iraq. Constructed in about 575 BCE under the reign of King Nebuchadnezzar II, the gate is named after Ishtar, the Babylonian goddess of love and war.

This imposing structure, originally part of a larger set of city walls, was famed for its opulent design. The gate itself was adorned with vibrant blue glazed bricks, which formed the backdrop for rows of bas-relief dragons and bulls, symbolizing the gods Marduk and Adad. The animals were crafted in a striking yellow and brown, creating a vivid and awe-inspiring sight for visitors and citizens alike.

Standing over 38 feet (12 meters) high, the Ishtar Gate was not just a defensive structure but also a testament to the grandeur and sophistication of the Neo-Babylonian Empire. The road that passed through the gate, the Processional Way, was lined with walls showing lions on glazed bricks, leading to the temple of Marduk and the towering Etemenanki, a ziggurat dedicated to this chief deity.

Significant portions of the gate and the Processional Way have been reconstructed and are displayed in the Pergamon Museum in Berlin, Germany, providing a glimpse into the ancient city's splendor. The Ishtar Gate stands as an important symbol of ancient Mesopotamian civilization, showcasing its artistic, architectural, and cultural achievements.
ChatGPT can make mistakes. Consider checking important information.